Thursday 11th November 2021
I hope you are enjoying the beautiful autumnal colours and making the most of the club as the nights draw in.
It's been great to see so many of you back on the course these last few months since restrictions ended, and we're looking forward to playing some great golf in 2022.
We've faced a lot of challenges over the last few months with supply chains of food, drinks, retail items, greens maintenance supply, staffing and scorecards, but continue to work hard to ensure members experience minimum disruption. Scorecards are now in, new team members are being recruited and new menus have been introduced with new suppliers supporting our orders. As a team we really appreciate your support - it hasn't been easy on any department but your support and patience are recognised and appreciated.
The winter season is now upon us! I see this as the social season with so many gatherings of members over the next couple of months, including award evenings, tribute nights, Christmas parties and our New Year's Eve party - an exciting time for our team and hopefully for you as members who join us at these events. I look forward to seeing you at one soon!
Kind regards,
Barry Careford, General Manager
Course Report
The opening to my August course report commented about a dry period we'd been facing, but this month it's slightly different.
An example: 120mm within two days caused havoc with the bunkers. As most of you are aware, due to standing water all the bunkers had to be made 'Ground Under Repair'. I would like to thank my team for the hard work they all put in maintaining the bunkers back into good condition!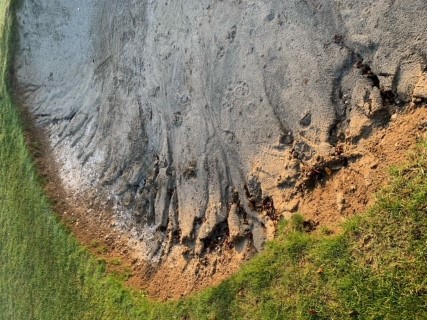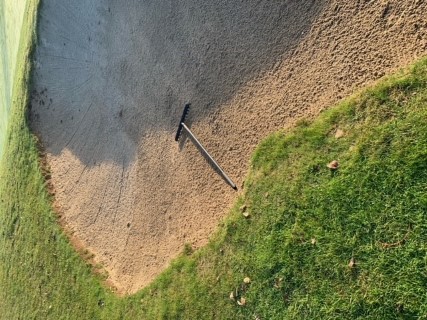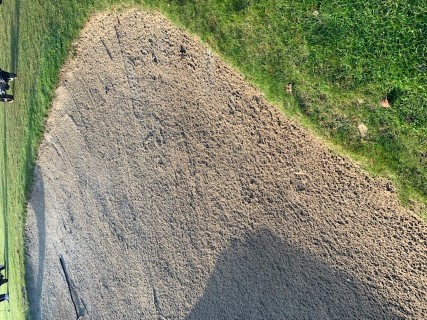 I'm aware that weeds in the bunker have been an issue. The process of weeding the bunkers has started as I'm sure some may have already noticed. Along with the weeds, Chafer grubs have also made their way into some of the bunker faces. The left-hand bunker on the 3rd had to be dug and re-shaped due to a collapsed edge where the Chafer grubs had been mining. Bunker edging will be carried out during the winter to repair any other damage that may have been caused.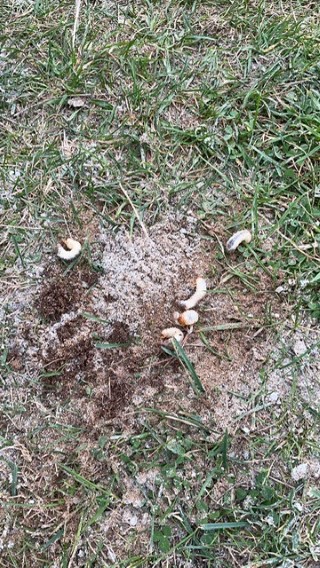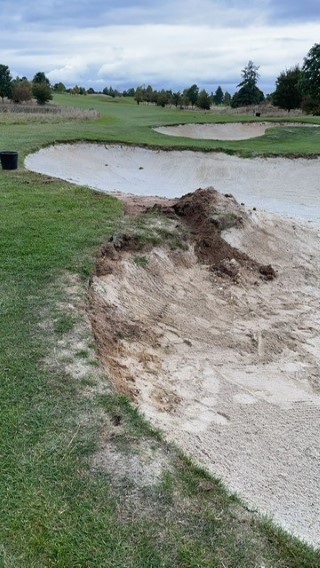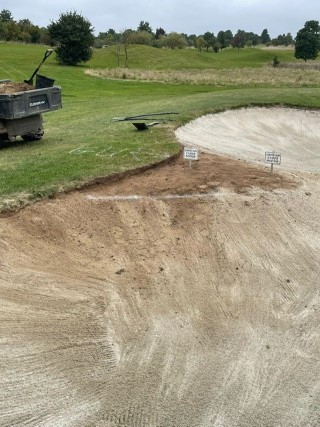 Now that the wetter months are upon us, there are some areas on the golf course where extra drainage will need to be installed and existing draining replaced or repaired. We have just started to replace the drainage pipe in the 13th left greenside bunker to avoid the build-up of water after heavy rainfall. This is just one of many bunkers on the course where this will be necessary. I will keep you all updated of any drainage work being carried out on the course.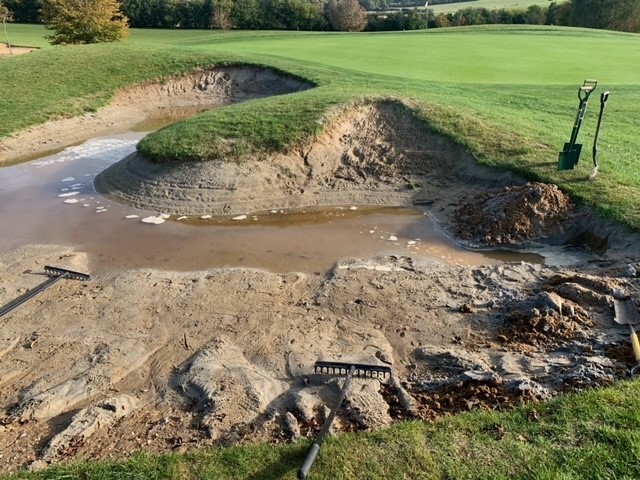 The Lannocks will be receiving the same treatment of bunker edging and drainage. The tee markers will soon be on artificial mats to allow us to start work on levelling and renovating the tees.
Aerating the greens on the Lannocks (as well as the 18-hole course) will begin soon in preparation for wetter weather. The aeration process helps to reduce the sponge-like thatch and organic matter under the surface that retains high levels of moisture.
I look forward to getting the winter projects underway and will keep you all updated as we go on.
Jon-Jo Pitts - Course Manager
Events update
Events at Chesfield Downs are now in full swing! Our recent Blues Brothers tribute night was extremely successful, with everyone enjoying themselves! Now with Christmas coming up you can expect festive party nights, lunches and afternoon teas, Breakfast with Santa, a Boxing Day Carvery & New Year's Eve Gala. November and December are such a lively time of the year and we're so excited to be sharing these special moments with you all. If you're interested in attending any of our events, do let us know so we can get you all booked in, as spaces are going fast!
Gym news
We hope you are enjoying getting back to your regular training, whether it be in the gym, using your prescribed Wellness Programme, our gym floor classes or studio classes. All our team are here to support your goals so if you're struggling with anything do come and chat with us. We can look at your programme, or you may even benefit from a block of personal training sessions to help get back on track.
You may have noticed we've added two new Strength & Conditioning classes in the gym which are proving popular and will look at adding further classes. Look out for our new Bootcamp class which started this November.
Please keep an eye on our studio timetable too, as we have two new classes also starting in November, Tai Chi and Boxing Circuits, introducing two new experienced instructors to Chesfield. We are closely monitoring our studio timetable to best suit our members, so classes and times may change slightly over the coming weeks.
We recently said goodbye to Cordelia who was a fantastic asset to our team, but due to family commitments has unfortunately had to leave us. We will all miss her and wish her the best of luck - who knows, she may be back in the future. We also welcomed Kylie to the Club recently, who joins us from Renegade.